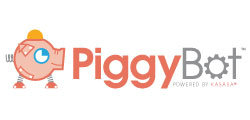 Teach your kids money smarts with PiggyBot – the new app from Kasasa®. Start an account for each child that you can see from a single screen. Set goals, assign chores, and keep track of IOUs. Plus, with a convenient mobile app, you'll never leave PiggyBot at home.
It's never too early to get your family talking about smart spending, sharing, and saving. Download this fun, new app and start the discussion.
Features

Free app for iPhone® and iPad®
For kids ages 5 and up…and their parents!
Virtual piggy bank that pays off in real life
Created by parents like you
Set up goals and track allowances
Teach kids to spend, share, and save smart!

PiggyBot is brought to you by SouthPoint Bank and Kasasa® – free checking accounts that reward you. Not available at the big banks. For good reason.

Learn more about PiggyBot and download it for free at the iTunes® store.




iPhone® and iPad® are registered trademarks of Apple Inc. App StoreSM is a service mark of Apple Inc.