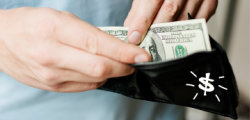 Pay for checking? How about the other way around? Here at SouthPoint Bank, we believe access to your own money shouldn't cost a monthly service fee. We'll even pay you really high interest, plus ATM fee refunds nationwide!*
And there's no monthly service charge or minimum balance to keep. All you have to do to earn your rewards are things you probably do anyway, like using online banking and your debit card.
Features
**APY=Annual Percentage Yield. APY is accurate as of 9/1/2019. Rates may change after account is opened. Minimum to open is $100. If qualifications are met each monthly qualification cycle: Foreign ATM fees incurred during qualification cycle will be reimbursed up to $10 and credited to account on the last day of monthly statement cycle. ATM receipt must be presented for reimbursement of an individual ATM fee of $5.00 or higher. Interest Rewards: Limit one Rewards account per SSN. If qualifications are met each monthly qualification cycle: Balances up to $25,000 receive APY of 2.10%; and balances over $25,000 earn 0.25% APY on the portion of the balance over $25,000. If qualifications are not met on Interest Rewards during the monthly qualification cycle, all balances earn 0.03% APY. Fees may reduce earnings on account. Qualifying transactions must post to and settle in Interest Rewards or Cash Rewards account during monthly qualification cycle. Transactions may take one or more banking days from the date transaction was made to post to and settle account. ATM-processed transactions do not count towards qualifying debit card transactions. "Monthly Qualification Cycle" means a period beginning one Banking Day prior to the first day of the current statement cycle through one Banking Day prior to the close of the current statement cycle. "Banking Day" means any business day on which an office of the bank is open to the public for the purpose of carrying out substantially all of its banking functions.